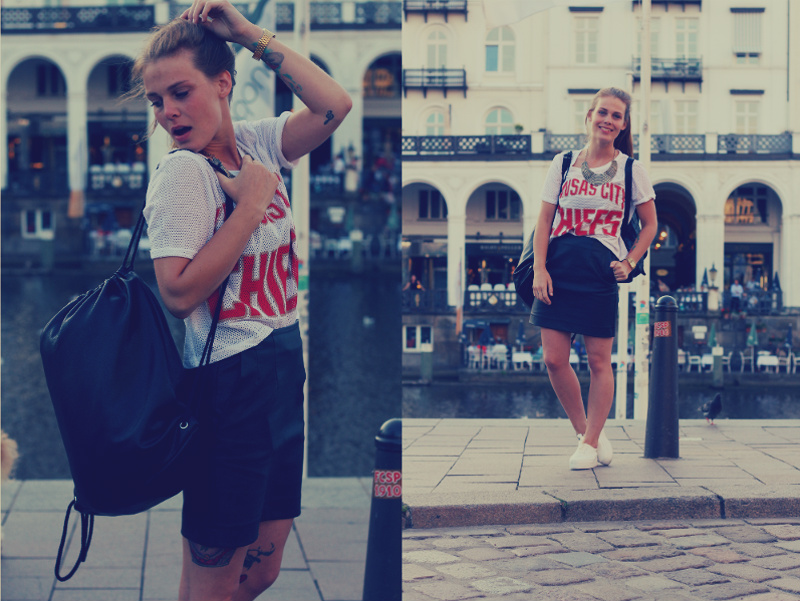 Leather and White –
Durch den Tag begleitete mich eine unschlagbare Kombination, die vor allen Dingen den vorangegangenen Sommer durch wohl erprobt wurde. Was gibt es Lässigeres, Cooleres und Wandelbareres als diese Komponente?!
Kunstlederröcke komplettieren einfach jedes noch so schlichte Outfit. Und so schien der Beutel aus gleichem Material das perfekte Match zu dem sportlichen Rest. Dieser bestand aus heißgeliebtem Trikotshirt und ebenso gern getragenen Platforms in Weiß.
———————————————————————————————————————
Leather and White –
Through the day I wore an unbeatable combination that has been tested the previous summer. What's more casual, more cool than this component?
Leather skirts simply complement any outfit yet so simple. And so the bag of the same material seemed the perfect match to the rest. This consisted of my favourite tricot shirt and platforms in white.
SHIRT //
CHOIES
# SKIRT / SHOES // H&M # BAG // MONKI # NECKLACE // PRIMARK